Crankshafts can be found in a wide variety of tools and equipment, from sewing machines and pencil sharpeners to powerful diesel engines.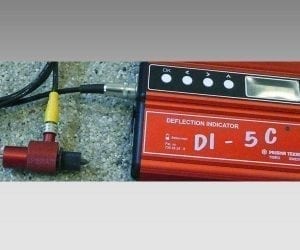 In an engine, progressive uneven wear and tear on bearings can cause the crankshaft's longitudinal straightness to change over time.
This process is called "deflection."
It may not be visible to the naked eye, but in a precisely-machined environment like a diesel engine, just a few degrees of deflection can make a big difference.
If left unchecked, crankshaft deflection can cause components to wear out prematurely, leading to serious engine damage that could ultimately result in complete operational failure.
Likewise, logging and correcting deflections is a vital maintenance task for any crankshaft.
The usage of an indicator clock (dial gauge) was time consuming, unpleasant, dirty and yielded dubious measurement results.
Fortunately, there's an easier way to monitor and correct crankshaft deflection before it causes permanent damage to an engine.
In an attempt to make the process more straightforward and reliable, we carry a crankshaft deflector indicator that offers superior accuracy and ease of use.
The DI-5 crankshaft deflection indicator is compact, portable and usable over a wide measuring range.
It also features a number of handy features such as a backlight, low-battery indicator and automatic switch-off after 45 minutes to prevent unnecessary battery drain.
Check out the video below to learn more about the DI-5's construction and operation, or give us a call today for more information about any of the products and services we offer at Seiffert Industrial.