Seiffert Industrial has a repair center fully staffed with trained technicians to assist with repairs and calibrations of the laser alignment systems we manufacture.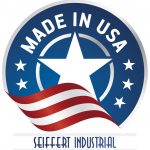 We provide expert service and quick turnaround.
Laser Alignment Calibration Notification
Your laser alignment systems require calibration from time to time. We will send you a notification of the required calibrations by e-mail, and will follow up by phone as required.
If you have not had your unit calibrated within the past year please call us 800-856-0129.
We can set up the calibration appointment at your convenience, and ensure that the unit is returned to you cleaned, thoroughly checked out, and calibrated as quickly as possible.
Incoming Repair or Calibration Notice
Report an incoming repair or calibration by filling out the form below.
For returns outside of the United States, please contact our repair department.
Email: service@seiffertindustrial.com
Phone: 972-671-9465
Submit a Repair or Calibration Notice