The team at Seiffert Industrial has been making high-quality equipment for pulley alignment and laser solutions that gets the job done.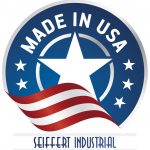 You can easily learn about some of our major services by watching the following pulley alignment, belt tensioning, and crankshaft deflection videos. Check out these videos, browse our site, and view our image galleries to learn more about our products and services.
Pulley PRO Gen2 Belt Alignment & Drive Pulley Tools
The Gen2 Pulley Pro is our latest laser alignment tool and easiest belt alignment device that is available.
See all the Pulley Pro Green can do.
Roller Alignment with Roll Check
With 3 different products for differing needs, Seiffert has the family of Roll Check Laser Roll Alignment Tools.
These roller alignment lasers quickly and easily get your production back online and eliminates downtime.
Belt & Pulley Alignment with Pulley Partner & Pulley Pro
Now one person can quickly and easily align belt drives and pulleys with the Pulley Partner and Pulley Pro.
Learn how this belt alignment tool can drastically increase your machineries uptime.
Roll Check Laser Roller Alignment System
See what makes the Roll Check laser roller alignment tool one of the best and easiest to use on the market today.
Your patented laser and ease of use makes it possible for one person to quickly realign rollers.
Sonic Belt & Pulley Tension Meter 507C
Making adjustments to belt tension is one of the easiest ways to ensure you are getting optimal performance and efficency.
The sonic tension meter quickly gives readings so you can make adjustments.
Bearing Heaters
Heating a bearing prior to installation expands the inner race cap to allow the bearing to be easily mounted on the shaft.
ConeMount Beating Heaters can help promote bearing longevity which means less equipment downtime and lower maintenance costs.
Crankshaft Deflection Indicator
The DI-5 Crankshaft Deflection Indicator speeds up the process of detecting deflection compared to an indicator clock or dial Gauge.
Not only quicker, but a deflection indicator is a more reliable source, ensuring you have the best possible reading.