Seiffert Industrial is dedicated to a long, useful life for each product to make a wide range of industries safer, faster, more efficient and more reliable.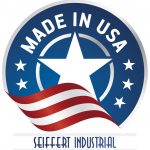 Warranty support and product registration from Seiffert Industrial ensures your system works at optimal capability and any problems that may arise can be handled quickly and effectively.
All products receive a two-year limited warranty guaranteed by Seiffert Industrial.  If any of your equipment needs repairs or replacement parts during the warranty period, Seiffert Industrial will provide them to you.
Learn more about protections and limitations of the product warranty and register your equipment easily online to receive full support.