Each convenient digital pamphlet contains detailed specs on each product, including its uses, features, applications and more, in full-color, printable pages.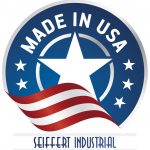 Use the downloads to take a tour of prospective additions to your systems or use them as ready reference on-site.
Detailed diagrams, photos and organized, in-depth information shows you each product, inside and out, so you can find the ideal equipment for your needs.
Select your product category
Pulley Alignment
Parallel Roll Alignment
Pointing and Line Lasers
Crankshaft Deflection
Belt Tensioning
Bearing Heater
Alignment Trainer
Seiffert Industrial provides full assistance and top-quality customer service at every step.
Download laser alignment product specs from Seiffert Industrial to learn more about any tool and contact directly for more details, ordering information or other inquiries.