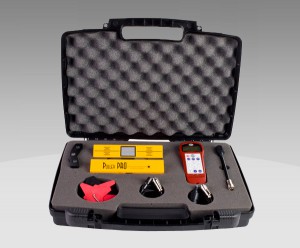 Maintaining your business' belt-driven equipment is an ongoing job.
To maintain these pieces of equipment properly and avoid costly downtime, you need the right tools to precisely adjust belt tension and pulley alignment.
Recently, we've highlighted a number of these tools on our blog including the Pulley Partner laser alignment tool, and our sonic belt tensioning meter. These tools can be used in conjunction with one another to keep all of your belt driven equipment in good working order.
But wouldn't it be nice to have everything you need to install and maintain belts in one convenient package?
With the belt installation and maintenance toolbox, you can. This toolbox comes in several customizable configurations to suit the unique needs of our customers.
By default, the toolbox comes with your choice of the Pulley Partner or Pulley Pro, the sonic tension meter, a cord sensor and extra batteries.
Other accessories that you can add to the toolbox include:
Sheave Gauges
An offset bracket kit
An inductive sensor
A flat flexible sensor
You can also choose a durable carrying case to keep all your tools safe and secure.
For businesses that depend on belt-driven equipment, this toolbox can make life a whole lot easier.
To learn more about which toolbox configuration is right for your business, contact us today to speak with a representative.
We'll work with you to determine what tools are best-suited to your operation, and then assemble them in your custom toolbox. This way, you'll always know you have the tools you need, when you need them.