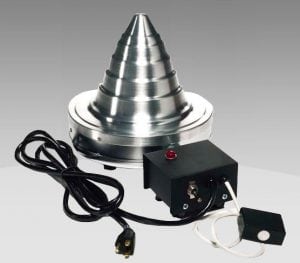 A bearing is any of various machine elements that constrain the relative motion between two or more parts to only the desired type of motion. Proper installation of a bearing will reduce maintenance costs and result in hassle free issues in the future.  It maximizes the life of the bearing and means less equipment downtime and better efficiency.  Heating a bearing prior to installation expands the inner race cap to allow the bearing to be easily mounted on the shaft.
A cone mounted bearing heater is the perfect solution to heat up the inner race cap and properly install a bearing.  The heaters are flexible and have the ability fit a wide range of race caps and bearings, from tiny to larger ones. Their portability is ideal for projects and equipment that may require mobility.  It easily plugs into any outlet with an 8 feet power cord.  The cones are very easy to use and require no specific training or expertise.  Simply follow the short instruction guide. No complex manuals or training is necessary.
Here is a nice instructional video and example of how this cone bearing heater can assist in your next project or bearing installation.  Always remember to use proper caution and care.  The 250 degree surface can cause serious damage if not properly maintained and watched.