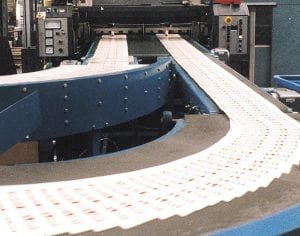 Since the introduction of the assembly line, conveyor systems have transformed the way companies and industries mass produce items.  Conveyor and processing lines involve transporting materials that may be too heavy or bulky to move manually.  They dramatically improve quality control and number of items that can be mass-produced. Conveyor systems allow quick and efficient transportation for a wide variety of materials, which make them very popular in the material handling and packaging industries.
Plenty of different industries use conveyor systems. Automotive, agricultural, food processing and packaging industries utilize conveyor systems for transportation, accumulation and sorting. Because companies rely on them so heavily, conveyor systems are often referred to as the lifeline of the plant or company.  Think of them like the blood lines, the veins and arteries in your own body carrying, transporting, and sorting out the materials in your blood to the right place in order for you to operate and exist at optimum strength. Just like your bloodlines, a conveyor system has to be properly cared for and maintained.
Regular inspections, maintenance and keeping the lines straight increases the service life of your conveyor system.  Using laser
alignment tools, like the pulley partner, or the RollCheck® Green will help you keep maintenance costs down. RollCheck® Green is a visual tool to speed-up quick alignment checks and the replacement of rolls in the processing industry. With proper maintenance, a conveyor line will last a long time with healthy, producing results.